What exactly is StreamYard?
StreamYard is a platform where you can broadcast on your browser through social networks. It offers a free option that you can try before opting for the premium plans to access more features.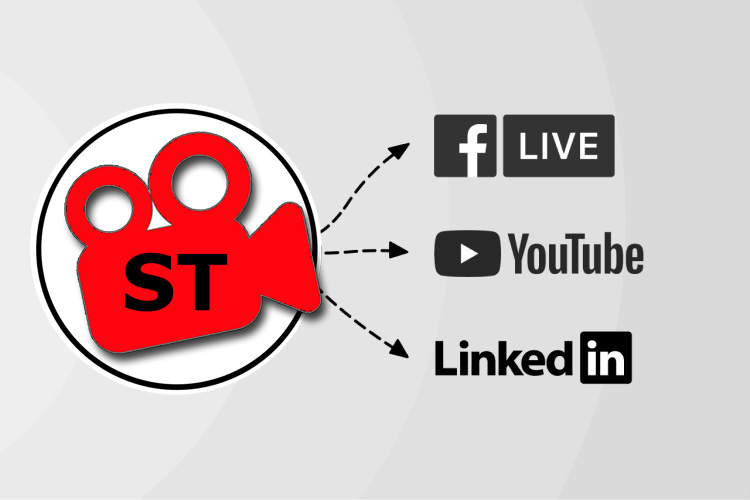 These are the main differences between plans:
We recommend that you subscribe to the basic plan, although the free plan is quite good if you don't stream often. The basic plan doesn't have a limit in streaming hours and it only differs from the professional plan in the recording hours and the number of platforms that you can stream on simultaneously.
Why should you use StreamYard?
Create your streams with more participants
What's the point of using a streaming platform that doesn't allow participants? With StreamYard, you can have up to 6 participants in the stream.
You will improve the quality of your content through debates and interviews and increase your audience.
StreamYard lets you broadcast via YouTube, Facebook Live, LinkedIn Live, Periscope or Twitch. On both personal and business profiles pages.
It will help reach a larger audience from different platforms to increase visibility and therefore, get more views.
Encourage audience participation
One of the most important elements of your live streams is your audience. It's crucial that they can participate and feel part of the live video. It will build a long-lasting and loyal community that follows your content.
During StreamYard streaming, your audience can make comments and see all the messages on the screen. You will be able to reply to them in live.
You don't need to download any tool to use StreamYard
It's kind of time-consuming to have to download and install tools on your computer.
With StreamYard it is not necessary since it works with your browser. Simply register with your email address and you will access the dashboard to start streaming or edit your account.
Personalize your streaming
Fully personalize your streaming , you can add your business or personal brand logo, change the background and much more.
If you have a premium plan you can completely customize your live videos and also, make sure your brand is easily identified in your videos.
In addition, you can add a 'call to action' to invite your audience to register to your website or buy a product or service, and add the questions on the screen, live.
How does StreamYard work?
One of StreamYard premises is to be an easy-to-use platform for any type of user, even when they don't have any technical knowledge.
Users with internet connection can start live streaming from any part of the world.
If you have already registered on StreamYard, you can skip this part and go directly to log in.
If you haven't yet, the process of creating an account is very straightforward. Add your email address and you will receive a code in you inbox. Insert the code and the account will be ready to use.
Register for free here
Here you can upgrade or change your plan, configure your profile and most importantly, connect your social network accounts to start streaming on different platforms.
Your YouTube channel, Twitch account, Facebook page and LinkedIn.
Once your account is set up, click 'Broadcast' and start streaming. You will be able to edit your event by giving it a title and a description, choose whether you want your stream to be public or private, etc.
And of course don't forget to choose the platform to stream on.
As you can see, using StreamYard for your live streaming is quite easy: create an account with your email address on your browser without downloading anything and start broadcasting.
In an instant you will have access to your live stream and chat.
Join the streaming revolution!

It's fast and easy.